A MESSAGE OF THANKS
"Big Time" Thanks to all those who braved the hot temps & rainy days to come out and enjoy the 2016 Cuyahoga County Fair!

It was you who gave us a great opening day Monday with our collection to food banks being bountiful.

It was you who gave us a great closing day Sunday to finish out a week of crazy weather.

And it was you who gave us days in between with smiles through the rain as you watched the beautiful fireworks displays!

We'll see you in 2017 where we are predicting a great Fair Week – see you the week of August 7th thru 13th!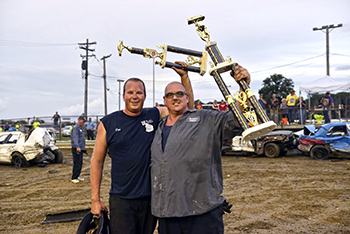 2016 Demo Derby Champion Lenny W. Rogers (right), and runner up Dan Tomasko (left)
The Cuyahoga County Agricultural Society wants to thank all who attended the 120th Annual Cuyahoga County Fair. As is the custom, we finished things off with a bang in the World's Largest Demolition Derby. We'd like to congratulate Demo Derby champion Lenny W. Rogers of Aurora, second place finisher Dan Tomasko of Strongsville, and in third place, defending derby champion, R.J. Saponari of North Royalton.
Special thanks again to all whose attendance helps keep the Ferris Wheel spinning. It is your support that enables us to sustain this event and the grounds it occupies, so that we might hand each down as a legacy to future generations. Our mission is to continue to bring "the best of everything" for all ages in a fun, festive atmosphere while emphasizing education in agriculture. We also appreciate your attendance at the diverse selection of events held throughout the year at the fairgrounds.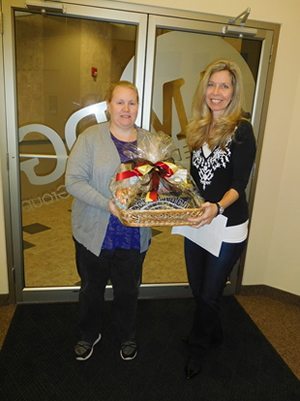 Cuyahoga County Fair PR & Media Ambassasor congratulates Jennifer Smith of Parma on being our Grand Prize Swag Bag Basket Winner!
Jennifer – thanks to you and your family along with all the other families who come out each year to support the efforts of the Cuyahoga County Agricultural Society and the annual County Fair.
---