Common Definitions
NOTE:
Definitions derived from The American Meteorological Society's Glossary of Meteorology
The FairWinds MET tower (Meteorological tower), was used to gather wind data to determine the feasibility of our wind turbine project. It also gathered the solar radiation data which helped us determine the viability of installing a solar panel array at the fairgrounds.
MET tower instrumentation logs wind direction and speed. In addition, the MET tower can be equipped to record temperature, solar radiation and air pressure.
The Cuyahoga County Fairgrounds continually recorded wind data for over a year from the top of our MET tower (50 meters high). The wind data was sampled periodically (roughly every 10 minutes) and stored locally at the tower base using solid state memory devices. The faigrounds plans to fit our MET tower data logger with web server software and an internet connection so that we can remotely download and display real-time meteorological information, as well as calculated power generation statistics, on our website.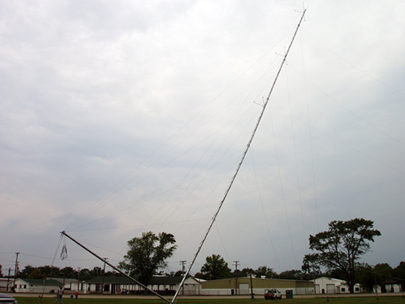 Note: Wind turbine efficiencies are proportional (in part) to the turbine rotor diameter. Since modern rotor diameters can exceed 80 meters it is necessary to gather information on the differing wind conditions that exist along the radius of a rotor blade. Wind differences occur in large part because of wind shear, or drag, along hilly topographical contours and heavily forested or developed surfaces surrounding the turbine. Wind readings at different heights are used to extrapolate wind energy data for all heights along the rotor diameter.