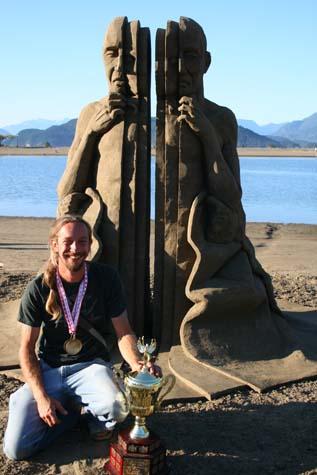 Event Date:
Tue, August 6, 2019, 12:00am
Carl Jara is a lifetime resident of the greater Cleveland area. He attended high school knowing full well that he wanted to become an artist--taking and retaking every art class at school. In an act of desperation, his art teacher sent him to work with the stage crew.  There he met Tom Morrison, then a firefighter and President For life of the International Association of Sand Castle Builders. Tom took Carl under his wing, teaching him the basics of both sandsculpting and business. Carl moved on to study Fine Arts at the Myers School of Art in Akron, Ohio, studying Illustration and Graphic Design, all the while working with Tom and being introduced to a community of professional sand sculptors he never knew existed.
When it came time for his Bachelor of Fine Arts exhibition, he realized that illustration and graphic design were not his true calling.  What he did have was a desire to sculpt. His fifteen foot sand sculpture in the school gallery graced the front pages of local newspapers and was broadcast across the region on the evening news. It was the defining moment that launched his career.
He now holds nine World Championship medals, at least three dozen medals from other contests, and has been featured twice on Sand Blasters on the Travel Channel. He's worked and competed in eleven countries, more than two dozen states, and continues to carve out his living in sand.
In addition to sculpting, he accepted the position of Exhibits Artisan/Technician at the Cleveland Museum of Natural History, where he gets to use his creative akills in a completely different manner.  He's helped install Sue, the largest T-Rex ever found, as well as articulated Lucy, one of the oldest hominid fossils yet discovered. So if you're ever at the Museum, give him a shout... you might just get a behind-the-scenes tour!