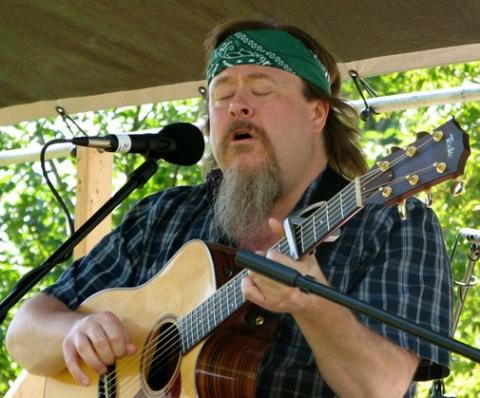 Event Date:
Sat, August 10, 2019,

2:30pm

to

4:00pm
Web: joerollinporter.com
"Where has this guy been hiding?" That's a common question at Joe Rollin Porter's performances. The answer is irrelevant; what matters is that his music is here now. 
Joe's fingerstyle acoustic guitar playing and vocals transcend genre and style, viscerally connecting with music lovers of widely diverging tastes. His live performance can bring a room full of loud distracted drinkers to a hushed silence, hanging on every note. The music primarily consists of Joe's own arrangements of traditional American folk songs, with a dose of early rural blues and an occasional dash of Celtic flavor as well. The end product is truly unique. 
Joe does not attempt to "authentically" replicate old-time music. Nor does he try to modernize the old songs to make them appeal to contemporary commercial tastes. Rather, after years of absorbing and internalizing traditional folk music, the songs flow out as natural self-expression. The result is an individual artistic statement that injects new life and energy into the folk tradition, keeping the heritage alive and growing. 
If you don't care about any of that, but you like great fingerstyle guitar playing, or simply enjoy high quality entertainment, Joe provides that too.
The music speaks for itself, but the following are a few attempts to describe it from some admirers: 
"Rich authentic vocals" "Interesting & provocative 
vocal modulations" 

"Nice textured depth & intricate tension/compliment 
between guitar & vocals" 

"sometimes sounds like 2-3 guys playing at the same time"

"very mature rhythmic phrases and changes" 

"A lot of really complex things are going on in that music, 
but it's great for just tapping your toes, too!" 
Joe's first album "Troubles Just Like Mine" (available at cdbaby.com/cd/jrporter and digstation.com/JoeRollinPorter) is an impressive achievement. With all basic guitar and vocal tracks being live simultaneous takes, and only a minimum of backing vocals and hand percussion added to round out the listening experience, it provides a reasonably faithful representation of his live performances as well. 
Joe is a life-long resident of Ohio currently residing in Cleveland, and has played guitar for over 30 years.