Contacts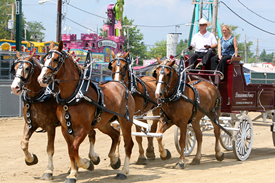 Draft Horses Halter & Hitch Classes: Dennis Eck, Director
Horse Show: Gail Wind, Director
Harness Racing: Gail Wind, Director
---
Harness Racing

When: Tuesday, August 10th, 2021 @ 4:00pm
Where: Grandstand
Race Info: Coming Soon
Tickets: FREE Admission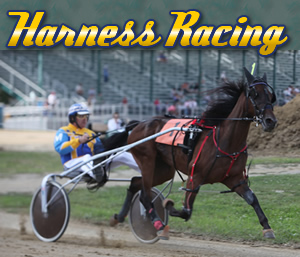 Please join us for Harness Racing action with Pari-Mutuel wagering (betting) on 9 or more races. Pick your favorite horse by name, driver colors or the horse that catches your eye. Fans come from near and far to enjoy some of Ohio's best 2- and 3-year-olds competing. Northfield Park regular announcer Ayers Ratcliff paints a picture of the action packed one-mile races, including exciting stretch drives for the WIN. We look forward to seeing you, your family, and friends for an exciting evening of racing action, and family fun at the FAIR! So long as the track is safe for racing, this is a rain or shine event!
Handicapping 101 with Bob Roberts
And if you're attending the Cuyahoga County Harness Races on Tuesday, August 10th, be sure to visit with MGM Northfield Park's Bob Roberts from 2:30PM-4:00PM at the Grandstand for Handicapping 101, in which Bob will offer insights on how to read a race program, while providing pari-mutuel wagering tips.
Bob Roberts is a native Clevelander who grew up in Willowick. He knew he wanted to be a sportswriter when his father took him to an Indians game and he asked who those guys were typing on a countertop behind home plate in the upper deck of old Municipal Stadium.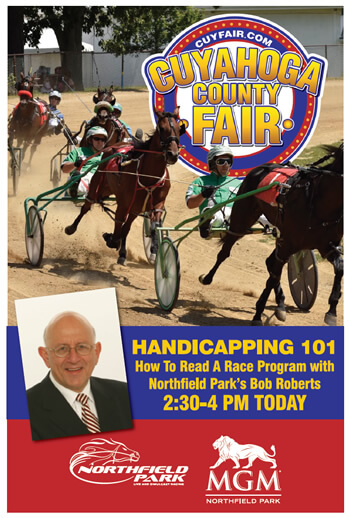 "They're sportswriters," said his dad. "That's their job." 
Roberts began his career at the Mentor Morning Monitor before heading over to The Willoughby/Lake County News-Herald where he was named sports editor in 1970 at the age of 22. Roberts was hired by The Cleveland Press in 1973 and returned to The News-Herald when the Press folded in 1982. The Cleveland Plain Dealer hired Bob in 1985 and he remained there for over 20 years before accepting a buyout in 2006. 
Roberts has won numerous awards. They include best harness story in North America, best Preakness story, a Golden Quill for feature writing in western Pennsylvania, and more than 10 state-wide writing awards in Ohio.
---
Horse Show

Please join us at our annual horse show for riders young and old! Our class for the youngest group is for children 6 and under. Classes are offered for many different types of riders including Academy Riders – children and adults who show horses they take riding lessons on, Youth classes – riders 18 years and younger competing to win the Youth High Point Award, English classes – for both Hunt and Saddle seat riders, Western classes, and the crowd favorite Costume class – where horse and rider participate in very creative costumes. We offer 6 qualifying classes for the American Saddlebred Horse Breeders Association (ASHBA) National Select Series region 5/6 Champion Show later this year. See a rare Cuyahoga County Horse show and as a bonus enjoy the FAIR!

CUYAHOGA COUNTY FAIR HORSE SHOW
SATURDAY, AUGUST 14, 2021 8:00 AM (Academy Classes)
CUYAHOGA COUNTY FAIRGROUNDS, BEREA OHIO 44017
(Use Bagley Rd. Entrance follow drive to Horse Barn area)
JUDGE: Kim Backlund
ANNOUNCER: Ellen Vajda ~ RINGMASTER: Linda Radke ~ SECRETARY: Patti Schooley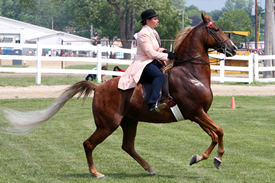 ALL AROUND HIGH POINT JUNIOR EXHIBITOR AWARD
PROVIDED BY SCHNEIDER'S SADDLERY
JACKPOT-ENGLISH-WESTERN - BIG DEE'S TACK & VET SUPPLY
2021 Entry Form: To enter online, click Here, or click here to download a blank entry form.
2021 Show Bill: Click Here
Sponsorship Form: Click Here
Entry Fee: $8 per class
Trophy & 6 Ribbons ~ Payback: $12/$10/$8/$6/$5/R with 6 or more entries
Stalls available: $30 Jackpot Class Entry Fee: $12
Payback: 35%, 25%, 15%, 10%, 5%

EXHIBITORS IN HORSE/PONY SHOW MUST PURCHASE A $12 EXHIBITORS TICKET, which includes office fee and 2 passes to the Fair.
No paybacks for Academy, Equitation, Showmanship and Halter
No refunds once entries are made.
Entries close three (3) classes prior to class.
Class holds must be received in the show office 1/2 hour before
session begins.
All ACADEMY RIDERS must wear jodhpurs and boots with a long-sleeved shirt and tie. Vests are permitted. Leather gloves & whips are optional. Riders cannot show in any other performance classes. Six ribbons in all Academy classes.

Approved Point Show for:
ASHAO, OASPHA, Central Ohio Saddle Club Assoc.,
Inter-State Horse Show Assoc. (Double Points), Inter County Horseman's Assoc.
ASHA High Point Awards Qualifying Show
Qualifying Classes for ASHBA Region 5/6 Select Series Championship Show.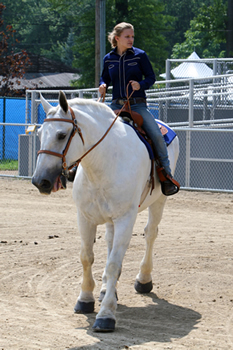 Full Class Sponsor: $10.00
1/2 Class Sponsor: $5.00

No Stallions are permitted in Junior Exhibitor classes, 18 and under. Limited Stalls available: $25 with advance payment to Cuyahoga County Fair, P.O. Box 135, Berea, OH 44017 before August 1st.
Gail Wind, DIRECTOR 216-676-5369
Ellen Vajda, SHOW SECRETARY 216-870-3267