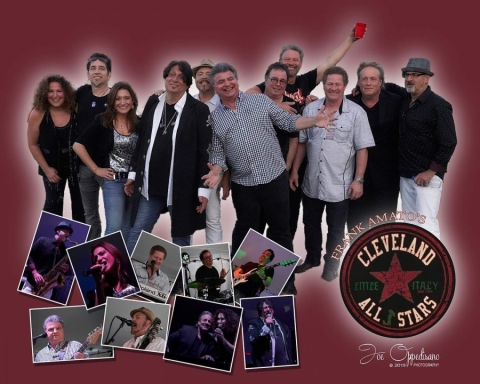 Event Date:
Fri, August 9, 2019,

8:00pm

to

10:00pm
Times: 6pm Box Office | 7pm Doors | 8pm Show
Openers: Sage ( Info ); Tricia & Art ( Info )
 TICKETS
Presale GA: $20.00 + convenience fees (includes Fair Admission and GA Grandstand Seating)
Presale VIP: $25.00 + convenience fees (includes Fair Admission, VIP Trackside Seating, and Access to VIP Bar & Restrooms)
Click here to purchase tickets online.
Presale tickets include gate admission (regularly $8). If you purchase day of show, and tickets are still available, you would have to pay the $8 Fair Admission at the gate, then pay separately for concert tickets at the Grandstand box office.
Frank Amato, lead singer of the rock band Beau Coup, has enlisted many of his area Rock and Roll Brothers and Sisters to join him in: "A Tribute to Cleveland Music" with some of the Cleveland Musicians who actually helped make that music famous. The show provides musical insight into why the Rock-N-Roll Hall of Fame is in Cleveland, Ohio! Fireworks will follow the concert.
Here are the Cleveland All Stars:
Neil Zaza

– Guitar Virtuoso with Zaza & The Neil Zaza Band

Steve Jochum

– Wild Horses, Big Zipper, and writer/composer of "Funky Poodle"

Debi Lewin

– The Divas and singer with Wish You Were Here

Michael Tyler

– Kinsman Dazz, Unglued

Jimmy Clark

– Beau Coup, The Godz, Joan Jett, Debbie Harry, Patty Smyth

Paul Christensen

– Michael Stanley & The Resonators, Midlife Chryslers

Ray Liptak

– Zaza, The Neil Zaza Band

Theresa Rose

– Caliber, The Neil Zaza Band

Dennis Lewin

– Beau Coup, Jonah Koslin and the Heroes, and host of "Turning You On to Classical Music" on WHK Radio

Bill March

– Beau Coup, Jonah Koslin and the Heroes

Don Krueger

– Beau Coup, Eric Carmen Band, The Euclid Beach Band, Jonah Koslin and the Heroes
Some of the music that will be heard are from bands like The Choir, The Raspberries, Sonny Geraci and the Outsiders, The James Gang, Joe Walsh, American Noise, Wild Horses, The Dead boys, Marc Cohn, Michael Stanley, Jonah Koslin, The Cars, Pretenders, Tracy Chapman, Pat Benatar, John Waite, Neil Zaza, NIN and of course, Cleveland's own, Beau Coup!
Expect some surprises!!! Come take a walk down Cleveland Musical Memory Lane!