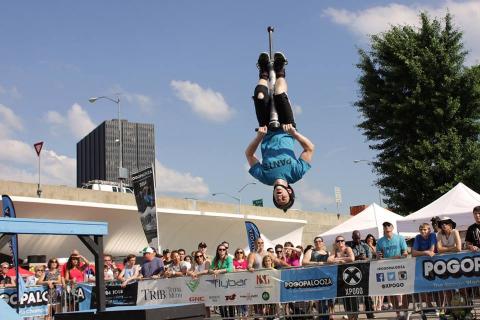 Event Date:
Thu, August 9, 2018,

4:15pm

to

4:45pm
The Xpogo Stunt Team is the World's Best Extreme Pogo Demo Crew. Featuring Championship Pro Athletes flying over 10 Feet in the air on extreme pogo sticks, throwing down flips and incredible tricks, the Xpogo Stunt Team brings the sport to you.  With fans across the globe, and new followers after every show, Xpogo Stunt Team Pros are a hit everywhere, every time.
The Xpogo Stunt Team has performed over 10,000 shows in 23 countries, and holds 13 Guinness World Records.
Xpogo's Street Show made Extreme Pogo known around the globe. The world's best Pro Athletes and Pro Pogo Sticks, with basic hand-held Props will draw in and engage crowds by performing a variety of stunts, including synchronized pogo, solo throwdowns, 7' high jump, audience interaction, athlete battle, and the world famous flip finale.