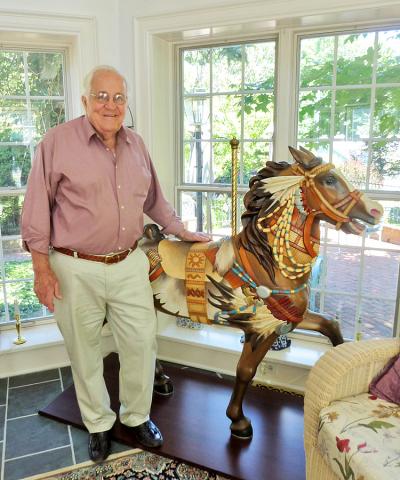 Event Date:
Mon, August 7, 2017 (All day)
Tom Nero, a successful businessman and lifelong (now age 88) resident of Brecksville, was a promising artist in high school (class of 1948).  He won an art scholarship to Cleveland Institute of Art, but instead earned Business degrees (Ph. D) at Kent State University.  Entrepreneur that he is, he founded Aurora Farms Factory Outlets as the first of its kind in Ohio (6th in USA).  In the 1990s, Tom sold Aurora Farms, taught at CSU and KSU, and took up woodcarving, without benefit of any formal art instruction.
Tom did take some woodcarving workshops for the technical aspects and has since carved well over 150 pieces, which he never sells, retaining all for occasional gifts to family members.  His work consists of 3-D carvings and framed bas-relief hangings.  Subjects focus on Native Americans, Mountain Men, caricatures, Santa Clause bas-reliefs and carousel animals.  These are carved from basswood mostly, but also from maple and pine, using a plethora of woodcarving tools.
Now essentially retired from carving, Nero is still active in Buckeye Woodcarvers, NorthCoast Wood-turners and the Christian Appalachian Project, which he founded at St. Basil The Great church 26 years ago, receiving donated used household items each September and shipping 3-5 semi-trailer loads to Kentucky quickly thereafter.
Tom was inducted into the Brecksville-Broadview Heights High School Gallery of Achievement in 2012 and was named by the City of Brecksville as Senior Volunteer Man of the Year in 2013.