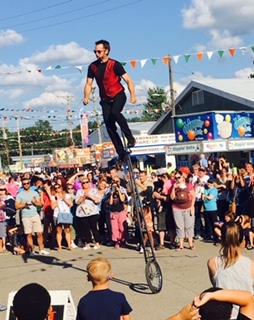 Event Date:
Tue, August 7, 2018,

7:00pm

to

7:30pm
Wade Henry hails from a long line of freedom-fighting Irish settlers who homesteaded in Manitoba in the 1700's and 1800's. It was in this Canadian West that Wade started training for his life as a performing artist.
Wade's inclination towards danger became apparent when, as a toddler, he was found riding bareback on his grandmother's german shephard.
Not long after the family's move to Pocatello, Idaho, Wade's father—perhaps to spare area canines—gave him a pony for Chistmas. His trusty steed at the ready, Wade adopted a "Cowboy Spirit," which he describes as: "...a certain attitude that most ideally fits the American man. It includes integrity, honesty and courage...along with a high esteem for family, a need for personal liberty, a spiritual element, and of course, a sense of humor. Further, the cowboy is a bit of a show-off. He values his own unique skills and abilities, and enjoys testing and improving them—whether in front of a rodeo crowd, or many miles from town as the sun sets."
Something of a nomad, Wade returned to Canada and spent long, frigid winters as a hockey goalie in the Great Lakes region of SW Ontario. His coach had him throw rubber balls around to improve his reflexes. Soon a professional juggler was born.
Honors Business Degree in hand, and now in his early twenties, Wade took an unconventional turn and decided to travel the world on a shoestring. For a time, he settled into working a farm in New Zealand. Calling home, he informed his parents that after years of academic toil and preparation for the corporate world, he had decided to return to the land - like a true Henry.
After the harvest, Wade continued his travels for another year—through Australia, Indonesia, Malaysia, Thailand and China and back to Canada. Necessity being the mother of invention, he funded these travels as a world-class street performer, delivering shows on streets, town squares and harborfront areas of various Australian and Canadian cities.
Wade's travels as a performer are partially documented in his popular adventure novel "The Greatest Finale".
Wade spent the next several years developing and polishing his skills as a performing artist. He is an accomplished juggler, unicyclist, ropewalker, fire eater, equilibriast, magician, speaker and comic. His most important and useful skill, however, may be his ability to handle people and audiences.
Given Wade's affinity for the land, he is naturally at home at county fairs, which serve to celebrate farming and agriculture. For Wade, these fairs are peopled by folks who understand the value of humor and a little high-spirited showing-off. Wade has performed over 6,000 shows and continues his prolific career at this year's Cuyahoga County Fair.