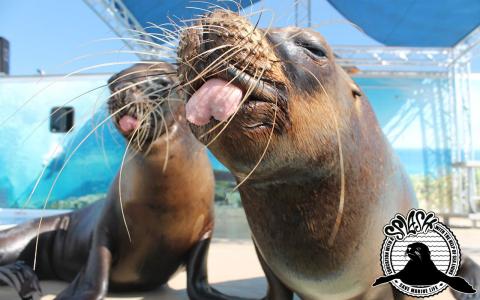 Event Date:
Tue, August 7, 2018,

5:00pm

to

5:30pm
The Sea Lion Splash is a unique show that will have crowds cheering and laughing. The show is an educational show with a Splash. The sea lions will amaze the crowd as they balance balls, shoot hoops, dance, perform handstands, and show their pretty smiles. This is the only show in the U.S. to feature both California and South American sea lions.
The idea of the sea lion show originated when Squalus started taking in beached sea lions who were unable to be returned to the wild due to age, injuries or the inability to provide food for themselves. Squalus provides a permanent home for these sea lions for the rest of their lives. This show is the only traveling sea lion show in the United States. Squalus, Inc. ensures that the sea lions have more square footage of water per animal in the show than most sea lions have in zoos. The animals' welfare and comfort is always placed first. Their transportation was designed specifically for the maximum comfort of the sea lions.
Squalus, Inc. is fully licensed by three federal agencies:
National Marine Fisheries Department
Marine Mammal Protection Agency
USDA