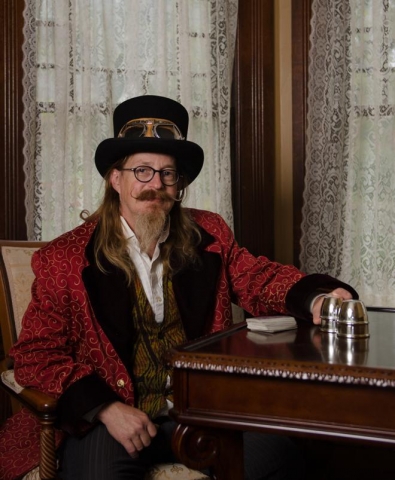 Event Date:
Tue, August 7, 2018,

10:00pm

to

10:30pm
Professor Bubblemaker's Marvelous Medicine Show combines the elements of magic, mentalism, comedy, history, a flea circus and of course lots of bubbles. Available in a purely entertainment show and an educational show which includes more historical information.
Professor Bubblemaker's Beautiful Bubble Ballet  features bubbles of all sizes and bubble sculptures such as caterpillars, carousels, square bubbles, snowmen and even a bubble snowglobe as well as giant bubbles and tiny bubbles and bubble snakes that flow gracefully under colored lights choreographed to music.
Professor Phineas's Hypnotic Adventures are hypnosis shows unlike any that you have seen before Whether a standard comedy hypnosis show, strolling "street hypnosis" or a hypnotic adventure in which the hypnotized volunteers become the stars of a funny adventure, the audience and volunteers are entertained and delighted with the power of their own minds.
Professor Bubblemaker's Festival Bubbles is a freeform demostration of bubble art at it's interactive best! You still get bubbles of all sizes and shapes, as well as the bubble sculptures, but as the weather changes it allows different tricks to be done and the audience is encouraged to chase, pop or play with the bubbles.
Colonel Bubblemaker's Fantastic Flea Circus is  a complete circus complete with a grand parade, tightrope walkers, trapeze artists, a death defying high dive as well as a "human cannonball" and other acts, all contained within a suitcase. The performers in this amazing circus are tiny trained fleas. We even have the worlds strongest flea Hugo and an equestrian team of fleas riding on gnats.