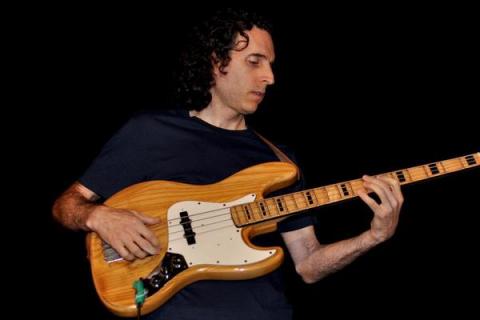 Event Date:
Tue, August 8, 2017,

6:00pm

to

8:00pm
"On the One" quartet is a Cleveland based group featuring Darren Frate-Bass, Ian Ross-Guitar, Dave Black-Percussion and Jeffery Long-Hammond B-3. Reminiscent of groups like Scofield, Medeski, Martin and Wood and the "Charlie Hunter Trio", "On the One" quartet melds jazz, funk and blues to create a unique sound that goes beyond what is typical of "traditional" jazz. "On the One" quartet features mostly original composition as well as their own arrangements from the likes of Pat Metheny, Chris Potter and John Scofield.
Darren Frate is a graduate of the Berklee College of Music, majoring in film scoring with the electric bass as his primary instrument. Darren has had the fortune of studying with jazz greats Charlie Banacos, Shawn "Thunder " Wallace and Bruce Gertz as well as playing and recording with numerous artists in various genres from jazz to rock. Some of those artists include: Mike Stern (Miles Davis, Blood Sweat and Tears), Jamie Haddad (Paul Simon), The Blind Boys of Alabama, and Dickie Betts. Darren is currently a teacher at the Music Settlement as well as performs and composes music for numerous groups in the Cleveland area.
Ian Ross is an Ohio (Akron) based musician who plays rock, blues, funk, jazz, and pop, but also dabbles in classical and bluegrass. His main instrument is guitar, but he is also an accomplished vocalist and composer/arranger. He currently has songs registered at BMI and has written music for radio, T.V. and film.
A professional musician since age 13, Ian grew up in the clubs of the bustling Cleveland music scene. His original project, The Lucky 13 Band has won numerous awards and accolades, including Best Rock Band at the Cleveland Music Festival in 2002. The group went on to record their first EP with Grammy-award winning producer/engineer Jim Gaines (whose credits include Carlos Santana and Stevie Ray Vaughn).
Ian is also a 2006 graduate of the College Conservatory of Music at the University of Cincinnati, and has studied privately with jazz legends Pat Martino & Wilbert Longmire, and virtuoso country guitarist Scotty Anderson. Since 2011 Ian has been a guitarist for Princess Cruises and recently returned from the inaugural voyage of the new flagship of the fleet, Regal Princess.
Dave Black is a drum and percussion teacher. Dave has been performing and teaching in the Cleveland area as well as San Francisco and Florida for over 30 Years.