DEMO DERBY & FEATURED EVENTS RULES & FORMS
ENTRY FORMS
---
DEMO DERBY ROUND ONE QUALIFIER
With FEATURED EVENT – YOUTH DEMOLITION DERBY (age 12 and up)
When: TBA
​Tickets: Details coming soon
​For spectators, it kind of goes without saying that you shouldn't try this at home (unless you really don't like your home). Fire crews will be on hand, along with a grandstand packed with cheering fans, as The World's Largest Demo Derby returns to the Fair. And if you thought Jack Nicholson knew something about road rage, you ain't seen nothin' yet! So come on out, and watch resale values plummet as an odd lot of maladjusted individuals crash tons of metal into each other... for fun!
YOUTH DEMOLITION DERBY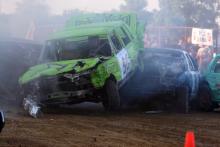 Have an appetite for destruction, but not quite old enough to drive yet?--no problem! Your first driving lesson will involve perpendicular parking your car into another car (hands at 10 and 2).  Lesson two will involve lane changes. Our advice? Don't forget to signal and check your blind spot. Otherwise, you may not hit something... and you definitely want to hit something! When all's said and done, you may just take home a trophy to wow your first driving instructor... and a cash prize to pay for all the extra lessons you'll need to overcome the bad habits instilled during the Youth Demolition Derby!
---
DEMOLITION DERBY ROUND TWO QUALIFIER
With FEATURED EVENTS FIGURE 8 RACING (Adult) & POWER WHEELS DERBY (Ages 4-9)
When: TBA
​Tickets: Details coming soon
FIGURE 8 RACING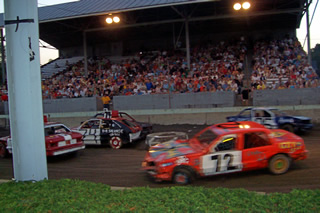 This is a race where every lap takes drivers to the crossroads of destruction. To finish first, you need to think fast and out-maneuver your competition! Take home a trophy and $500 cash prize for winning this event!  "Championship Double Figure "8" Racing®" is a form of action racing developed by JM Productions a few years ago using compact cars to enhance the excitement for drivers and spectators.
This form of Figure 8 race, unlike others, is held in front of the grandstand on the racetrack in a minimum are of 45 feet wide x 100 feet long.
Utilizing smaller, lightweight cars takes on all the excitement of a full-sized Figure 8 without the danger to the drivers. Speeds average between 5 and 15 miles per hour and only 5 to 8 cars are allowed on the track at one time.
Drivers need to out-think and out-maneuver their competitors in order to win. Because of the challenge this event presents, its popularity is growing rapidly. Experience the motor mayhem as JM PRODUCTIONS' "CHAMPIONSHIP DOUBLE FIGURE "8" RACING ®" is featured at the Cuyahoga County Fairgrounds!
This spectacular entertainment event will feature local daredevils competing for the coveted "Championship" title, trophy and prize money.
JM Productions, Inc. has more than forty years of expertise producing and officiating these championship events. For additional information or entry forms, please contact JM Productions, Inc. at (716) 648-5100 or visit us on the web at www.jmproductionsinc.com. You may also contact us at jmp [at] derbyinfo.net.
POWER WHEELS DERBY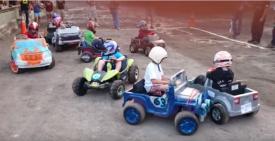 And you thought bumper cars were fun?  Hey Mom & Dad... CHARGE THOSE BATTERIES!  Kids ages 4-9 can get their first derby experience in their 6/12 volt power wheels.  All participants receive a trophy and both the child and one parent gain free admittance to the fair with their entry.  A pretty good deal, and a great chance for your kids to show off their skills behind the wheel!
---
DEMOLITION DERBY FINALS
When: TBA
​Tickets: Details coming soon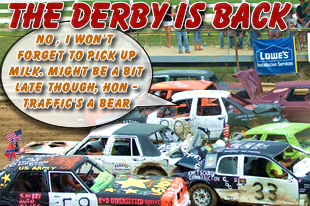 So you made it this far. The blue book estimate on your vehicle may seem generous, and the trunk space may be limited, but the little car that could is still running. If you've survived the gauntlet of preliminary round destruction, and come out the other side, engine humming and wheels still turning, you now have a chance at the Championship! We are talking about a $1,000 cash prize and trophy! It's a big trophy too. Go for the win!
---