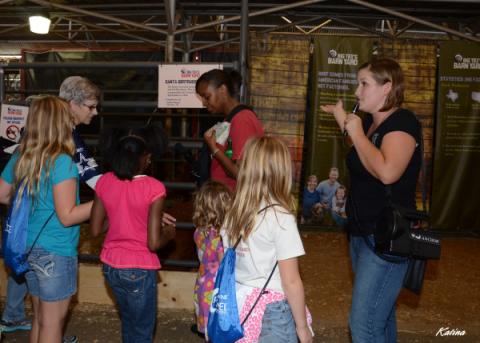 Event Date:
Tue, August 8, 2017,

1:00pm

to

8:00pm
Moo U guides want to change the way the general public views the production livestock industry. We want people to realize that the animals are more than just a food source. Alternate protein sources are easy to find, but replacements for the byproducts that we use daily are not so readily available. Everyone uses animal byproducts on a daily basis, if you live in a home, use electronics, drive or ride in a car. It is extremely important to educate our youth about where their food is coming from and how it is raised and grown. Our tours will be a benefit to your fair, community and school educational programs.
Moo U will be at the Fair Tuesday through Sunday from 1 PM to 8 PM offering livestock barn tours on the hour.  They will have a pop up tent in front of the Cow Palace where the tours will start and end.