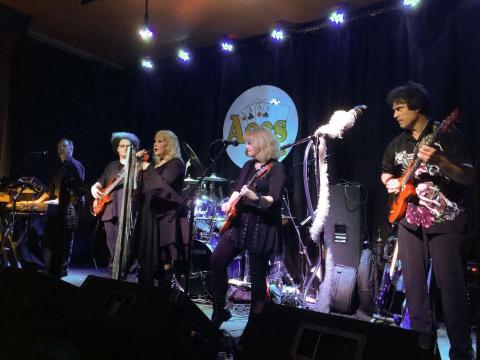 Event Date:
Thu, August 8, 2019,

8:00pm

to

10:00pm
The Gypsy Lite Orchestra is a rock, power dance, country and touch of blues band with a female lead vocalist covering a variety of old and new timeless favorites. You will love the variety of songs chosen to make your night out a rockin' good time. Not only do we have super female vocals, but the guys in the band give the band a special element of change during each show making the whole night interesting and fun for several generations.
The current Gypsy Lite Orchestra bandmembers are:
Lori Matusz - Vocals
Lloyd Sarno - Guitar, Back-up Vocals
Donnie Richter - Drums
Gypsy Lite Orchestra shows feature artists such as Stevie Nicks, Heart, Pat Benatar, Janis Joplin, Pink, Blondie and Billy Squier, Journey, Led Zeppelin, Steely Dan, Doobie Bros, Grand Funk Railroad, Bruno Mars, Elle King, B-52s, Styx, Beatles, Jefferson Airplane, Joan Jett, Sugarland, Lita Ford, Bruno Mars, Gretchen Wilson, Miranda Lambert and more. 
Gypsy Lite Orchestra rock 'n dance band was formed in 1990 and Lori is the only original member. The band has played consistently throughout the past 27 years around Northeast Ohio pleasing many dedicated fans. This is a must-see band!