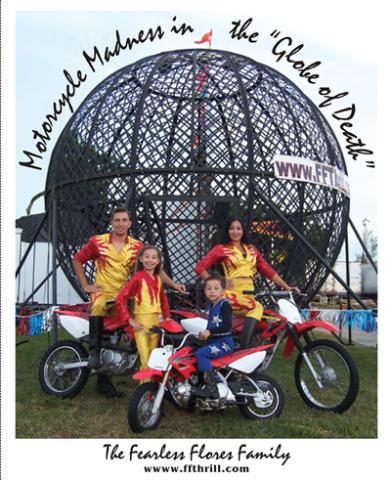 Event Date:
Tue, August 8, 2017,

2:00pm

to

2:30pm
The Cuyahoga County Fair is excited to announce that for the first time ever, all 10 generations of the Fearless Flores Family will perform together at one site!
They will be performing one of their thrilling aerial acts, which include the trapeze, sway pole and high wire.
The Fearless Flores Family consists of Ricardo (Father), Arcelia (Mother), Cyndel (13-year-old daughter) and Volorian (eight-year-old son). These ninth and tenth generation performers from South Florida are proud to present "Motorcycle Madness" inside the legendary "Globe of Death" (motorcycles inside a metal ball). Ricardo and Arcelia have presented this act for over 10 years and Cyndel began at the young age of six, while Volorian started his daredevil life at the unbelievable age of four. Cyndel and Volorian are currently the youngest brother and sister team to race inside the "Globe of Death." The Fearless Flores Family likes to perform all over the country at fairs, festivals and motor sports events.