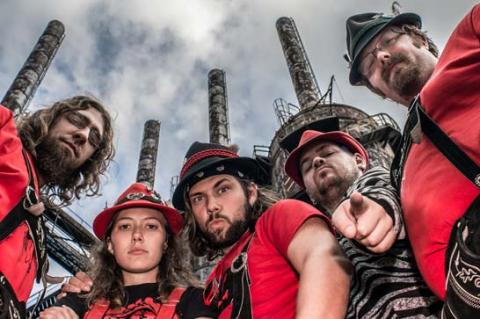 Event Date:
Wed, August 8, 2018,

8:00pm

to

11:00pm
The Chardon Polka Band is known for being innovative and extremely adaptive with the ability to please almost any audience; whether it be 20-somethings at a college hang-out or the patrons of a local senior center. In their nine years together, the band has made a name for itself by adding a colorful twist to the traditional genre of the polka.
The Chardon Polka Band is not your average polka band. They are a group that brings new life and energy to this traditional music. While the group has an extensive catalogue of traditional polkas, they are not afraid to bring their own tunes into the mix along with polka-pop covers of artists like Justin Bieber and Lady Ga Ga. The band got their start in the Cleveland music scene; playing countless area fairs, festivals, and venues. While remaining very active in Cleveland, the band can often be found taking their music on the road and performing at a variety of events across the east. From performing at an NFL game to headlining for some of the largest Oktoberfests in the nation to opening for the prestigious Cleveland Orchestra; the band loves pleasing crowds anywhere and everywhere.
The Chardon Polka Band is happy to take part in continuing the Cleveland polka tradition while adding their own unique edge and antics to the genre.
The Chardon Polka Band is nationally known in the polka circuit, traveling to Oktoberfests and polka events across the country. The group is unique in the polka world because of their youth, most of the members being in their twenties, and rock and roll attitude. While their hip take on the genre has been labeled "punk polka", the band still knows how to please the most staunch and avid of old school polka fans. 
The band has been featured nationally on REELZ TV series, Polka Kings, NPR, Off-Beat America (HGTV), and Trip Flip (the Travel Channel), and on countless news programs across the country.